Is the British public taking the pandemic seriously?
Streetbees Team
July 17, 2020
In June, over half of Brits admitted to never wearing a face mask or covering when leaving the house - far higher than any other country in Europe. This is despite the fact that the UK has one of the highest death rates of COVID-19 in the world, topped only by the US and Brazil. The data comes from Streetbees' COVID-19 Human Impact Tracker and has been monitoring the impact of COVID-19 on people's lives since January and includes over 60,000 consumers worldwide. 
Until now, face coverings and masks have only been compulsory in England on public transport - in other closed environments like shops and supermarkets, it was simply encouraged. Will the introduction of new, stricter measures not only help curb the spread of the virus but also make Brits more likely to obey?
In the UK, the top reasons people have for not wearing them include - they're hot and uncomfortable, they make it hard to breath, and worryingly, they're not necessary. 
In other European countries, like Spain, wearing face coverings has been legally enforced since May and will continue until Autumn at the earliest. But not everyone has been so strict - for example, France is only now considering making masks compulsory in shops, as cases continue to rise. However, despite this, consumers are still far more likely to wear them out of the home than in the UK.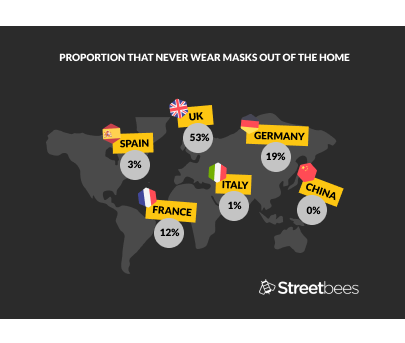 The UK government has come under fire recently for its response to the pandemic, many arguing they acted too late and remain unclear about what is expected of the public. However, when you compare it to other countries, consumers in England specifically appear to be less vigilant about the virus. Why is this? It's not that consumers are less afraid of COVID-19 or expect to be less impacted - is it simply a reluctance to sacrifice comfort and convenience for the greater good? Is this mentality what's led to such a high death rate?
Perhaps the prospect of a £100 fine will be enough to get the public wearing masks - only time will tell. It's clear that the pandemic isn't going anywhere anytime soon, so the public must rally together to protect each other from a second wave. 
Dr Simon Moore, Chartered Psychologist and CEO at Innovationbubble, says, "It's actually unsurprising that the UK falls behind other countries in terms of adopting face masks to wear when out. This is partly due to the lack of clear guidance by any credible authority on the matter - the government has failed to provide any authoritative directive in terms of wearing face masks, leaving it to the 'intelligent discretion of the public'. 
"In times of uncertainty humans look for direction - both from sources of authority and from others around them. The perception of credible authority is also psychologically weakened if that source itself seems to lack confidence or consistency. So we have a double whammy here - the government has not been perceived as giving authoritative direction and so we then look to other sources of information… other people around us. In this case, the majority of those other people around us are not wearing masks either! 
So through social reinforcement we feel that it is either ok, safe or acceptable to not have a mask. If the government had given clear, confident advice - people would have followed that directive and more of us would have been wearing masks in the first place. And the more people who wear masks - the idea that this is the appropriate and normal behaviour will get stronger."